The human body is a fantastic system. When given the proper nutrients and well taken care of, it can do amazing things. Our bodies can heal themselves from many ailments if we fuel them with the right nutrients to do so. One thing we can do to take better care of our bodies, whether it be for healing or preventing future illness, is to drink bone broth. Bone broth provides so many nutrients for our bodies, the most important one being collagen which is challenging to consume enough of in the standard western diet.
Benefits of Bone Broth
Bone broth is considered a superfood because of all the nutrients and micronutrients it contains. The nutrients found in bone broth are hard to come by in our daily diets. This is why some people take on the laborious task of making their own bone broth. Bone broth can help build healthy teeth and bones, ease and strengthen our joints, heal your gut, prolong the supple elasticity in our skin, and help us fight off things like the common cold and flu. The primary nutrients in bone broth that support us are:
Collagen – Promotes joint health.
Glycine – Improves sleep.
Gelatin – Restores gut health.
Phosphorus – Repairs cells and tissues.
Magnesium – Reduces anxiety and regulates blood pressure.
Calcium – Maintains healthy bones.
"Broth has always been considered a healing food, especially if you consider the tradition of eating chicken soup when you're sick with a cold," 

-Jennifer McGruther, The Nourished Kitchen.
Downsides to Bone Broth
As good as bone broth is for you, there are plenty of people who need an alternative for one reason or another. Making bone broth at home is the healthiest way of getting all of the benefits your body needs. However, you would be hard-pressed to find a bone broth recipe with a cook time of under 10 hours. In fact, most recipes call for a solid 12 hours of cook time. Hmm, let's think of all of the things we could do with 12 hours of time back in our day.
We could:
Fly from the west coast of the United States, across the pond to jolly old
England.
Read the great American novel; The Great Gatsby, 2.6 times cover to cover.
Ride a bike from Miami to Key West
Perfect the steps to the newest viral dance craze.
Binge-watch an entire season of your favorite show or two, or three.
See, there are so many things you could do instead of watching a pot and occasionally stirring your delectable bone broth.
Apart from the time it takes to make bone broth, some people find the taste a little off-putting, to say the least. One would think that the simmering bones, herbs, and aromatic vegetables would leave you with a broth almost as good as your Granny's homemade chicken soup. However, more often than not, you're left with a bland, oily concoction that has a gelatinous "scum" layer on the top. If that's just not your jam, please stick around with us for a little while longer.
Another reason some folks avoid bone broth is that they follow a vegetarian or vegan diet. Whether it be for health or social reasons, vegans and vegetarians are diametrically opposed to the idea of roasting then boiling animal bones no matter how many nutrients they provide. You could always get store-bought, pre-made bone broth; however, you may be getting more than you bargained for here. Most bone broth brands try to compensate for the taste of bone broth by adding in unnecessary salt that can leave you feeling bloated and worse than before. You aren't stuck, though; there are plenty of options for you to get all of the same health benefits that you can get from bone broth.
Alternatives to Bone Broth
Whether you're a busy parent or you work crazy hours and like to relax when you have time at home, have dietary restrictions, or just plain don't like the taste of the bone broth, never fear we have plenty of alternatives for you. There are alternatives to suit your lifestyle and specific health journey needs.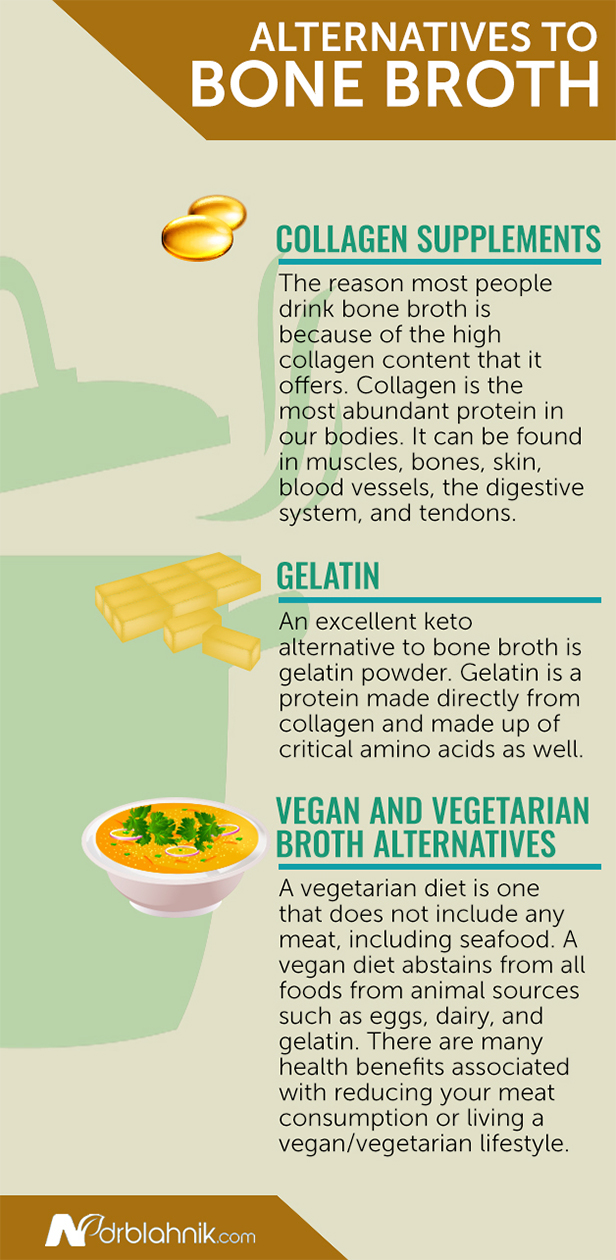 There are many ways to get the health benefits afforded to you from bone broth. If you've got the time to spare, you can make a vegan "bone" broth made from powerful superfoods or some delicious chocolate gelatin bars for a quick fix of sweetness and protein. For those with absolutely no time to spare in your jam-packed schedule, there are collagen supplements and pre-made gelatins to help you maintain a healthy and balanced lifestyle on the go.
Collagen Supplements
The reason most people drink bone broth is because of the high collagen content that it offers. Collagen is the most abundant protein in our bodies. It can be found in muscles, bones, skin, blood vessels, the digestive system, and tendons. The protein found in collagen gives our skin elasticity and strength over time by replacing dead skin cells. Collagen is instrumental in relieving tendon and joint discomfort as it surrounds these areas and can decrease over time.
Collagen is a complex protein; it contains 19 amino acids, including proline and glycine, which are hard to come by from just eating meat. These amino acids play an essential role in our bodies, from building healthy DNA strands to protecting blood vessels' integrity and improving joint health.
The easiest way to get the collagen you need to support your body is through capsule form. This way, you get all of the nutrients from the bone broth you need without having to sacrifice your time. Support your gut, skin, and joints all with one easy-to-swallow pill, no more bone broth boiling for you!
Gelatin
An excellent keto alternative to bone broth is gelatin powder. Gelatin is a protein made directly from collagen and made up of critical amino acids as well. You can find gelatin in premade forms at most stores; however, our preferred method is gelatin powder. Most beef gelatin is colorless, tasteless, and odorless. It is perfect for mixing in with the foods and drinks you already know and love. Because gelatin powder is tasteless, you can add it to your keto coffee in the morning for an extra boost of vitamins and nutrients without even knowing. It feels a little bit like cheating the system, right? There are plenty of ways to add in a little extra nutrition with gelatin powder in everyday meals and treats.
Vegan and Vegetarian Broth Alternatives
A vegetarian diet is one that does not include any meat, including seafood. A vegan diet abstains from all foods from animal sources such as eggs, dairy, and gelatin. There are many health benefits associated with reducing your meat consumption or living a vegan/vegetarian lifestyle.
Eating primarily fruits and vegetables can significantly reduce a person's risk of coronary heart disease, hypertension, diabetes, obesity, and certain types of cancer. While it is impossible to get collagen from a vegan source, there is some good news for vegans and vegetarians. Typically, non-meat eaters need less collagen supplementation than meat-eaters.
This is because omnivores (people that eat plants and animals) need collagen to break down the muscle they consume from animals. There are ways to get the other nutritional benefits from broths sans animal bone.
"Nothing will benefit health or increase chances of survival on earth as the evolution to a vegetarian diet." – Albert Einstein
Final Thoughts
If bone broth just isn't for you, we hope you are able to try one, if not all, of these scrumptious recipes on your path to better health. Who wouldn't love a big stack of fluffy waffles that are actually good for you? Or a hearty vitamin-packed vegan stew for your meatless Monday menu? Whether you're on a new vegan journey or you're looking to ditch your dreary bone broth recipe, there are plenty of options out there for you to choose from.